I am Katharina Lehman – registered Yoga teacher E-RYT500 and licensed practitioner for psychotherapy – practicing and teaching Yoga und Yoga Therapy in seminars, individual and group sessions and conferences. In my early twenties I studied Art in Vienna. Creative painting as well as playing my violin guide me and my four wonderful children through all stages of life.

During my many years of organic farming in Germany and New Zealand I deepened my experience of Yoga, mainly with Hatha Yoga (Ashram Yoga NZ), Yin Yoga (Bernie Clark), Heart of Yoga (Mark Whitwell) und Yoga Nidra (Shantimurti Saraswati and Elena Mironov).
Several trainings of body work and massage, especially Thai massage (Sunshinehouse Greece) and Harmonic technique (Eyal Lederman), enhance my ability to read the body language.Ongoing intensive studies for diagnostic criteria and therapeutic treatments in psychology broaden my holistic view.
Recent education in Yoga and Psychotherapy

2022
Online Training Mental health aware yoga (60h certification Programme RYT), Dr. Lauren Tober, Australia
Online Workshop series Humanual Breath & Movement Practices for your Mind-Body-Self, Betsy Polatin, USA
Online Retreat The Wisdom of Trauma: Reclaiming Wholeness, Dr. Gabor Maté, Canada
Workshop Compassionate Inquiry, Dr. Gabor Maté, Switzerland
2021
Licensed Health Practitioner for Psychotherapy (Heilpraktikerin für Psychotherapie), Berlin/Germany
Training Motivational Interviewing, Dipl.-Psych. HJ Rumpf, Addiction Reseach University Clinic Schleswig Holstein, Fachkrankenhaus Hansebarg
Online Master Program USA Expert Strategies for Working with Anxiety, National Institute of the Clinical Application of Behavioral Medicine (nicabm)
Online Training Yoga Nidra (60h certification Programme RYT), Elena Mironov
2021
Training Yoga therapy RYT 300+ Svastha Yoga and Ayurveda, Dr. med. Günter Niessen, Ganesh Mohan
2016
Training Advanced Yoga Teacher Training RYT 300+, Timo Wahl, Patrick Broome, Krishnatakis, Greece
Training Classical Massage Heilpraktikerschule Lübeck/Germany

Besides countless hours of self study and self practice I continue to develop my experience of Yoga by attending workshops and intensive trainings. I am inspired by the variety of styles and teachers: Mohan family, Clive Sheridan, Lance Schuler, David Timbs, Peter Sanson, Kanjini Devi, Ashwani Bhanot, Patrick Broome, Timo Wahl, Krishnatakis to name a few.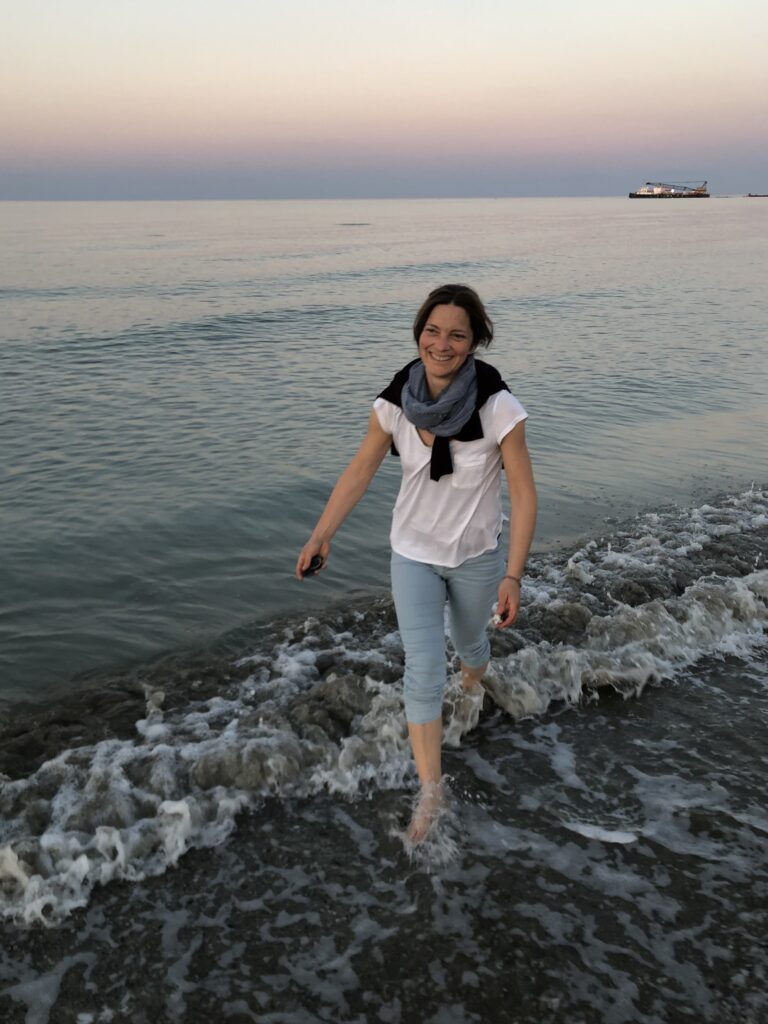 Kamila P., Yogalehrerin: "Liebe Kathie es gibt Yoga- Stunden die man absolviert, und es gibt Yoga Stunden, die einen direkt im Herzen erreichen ohne das Körperliche zu vernachlässigen. Das sind deine Yoga Stunden, harmonisch, persönlich und irgendwie leichtmachend. Namaste"
Lillian Stillwell, Dancer and Coreographer: "Katharina Lehman is a yoga teacher of exceptional grace and generosity.  She has the special gift of being able to teach yoga with lightness.  Intelligent sequencing, sensitive adjustments and precise descriptions are offered with modesty and ease. A deep personal practice is surely at the source of Katharina Lehmann's great talent as a teacher.  And yet, it is the students themselves who are the focus of her teaching.  Each person is encouraged to stay focused on his or her own body, breath, limitations and intentions.  There is no pressure to be somewhere else, someone else.  There is space and time to observe, explore and contemplate, to be inspired and to be restored."
Marcus T., Konditor: "Ich möchte mich bei Katharina bedanken sie hat viel dazu beigetragen das ich mich jetzt wieder so fit und wohl fühle -es sah bei mir nicht so gut aus denn ich hatte zwei Bandscheibenvorfälle im Lendenwirbelbereich  -ich habe mich gegen eine Operation entschieden – aber das muss jeder für sich entscheiden -Katharina hat mir besondere Asanas gezeigt um Schmerzen zu lindern und später kräftigende und dehnende Übungen für den Rücken sowie der Bein- und Hüftmuskulatur gezeigt heute bin ich schmerzfrei und es geht mir wieder sehr gut selbst bei meiner vier wöchigen Reha wurde Yoga angeboten man muss diese Übungen regelmäßig ausüben nochmals danke für die tollen Asanas liebe Katharina – wirklich Danke
"